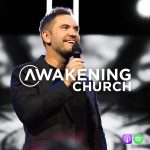 In this powerful message, Pastor Jordan Boyce teaches on how to resist what the enemy has for you and how to reconnect with what God has for you.
Learn how to fight fear with your faith, as well as how to reconnect with God to live a life of significance.
Want to learn more about Jesus?
Visit → http://www.AwakeningChurch.org/Jesus
Invest in your faith today. Get On-Demand Christian Discipleship & Training.Sign Up → https://www.AwakeningU.org