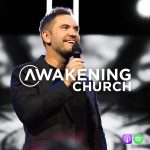 What does it look like to live a life dedicated wholeheartedly to God?
In this message, Pastor Jordan Boyce shows us how God can position each one of us into a place of provision so that we might help His people.
Being dedicated to serving God's house is the greatest work you can pursue with your life.
Want to learn more about Jesus?
Visit → http://www.AwakeningChurch.org/Jesus
Invest in your faith today. Get On-Demand Christian Discipleship & Training. Sign Up → https://www.AwakeningU.org