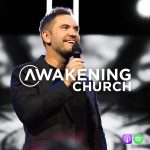 The genius of Jesus can be found in His Sermon on the Mount. One of the most incredible things that Jesus modeled for us was how to pray.
In this message, Pastor Jordan Boyce shares some principles from the Lord's prayers that you can practice daily.
Prayer is personal communication with God, who knows you the most, who loves you best, and who will lead you well – if you allow Him to.
Want to learn more about Jesus?
Visit → http://www.AwakeningChurch.org/Jesus
Invest in your faith today. Get On-Demand Christian Discipleship & Training. Sign Up → https://www.AwakeningU.org