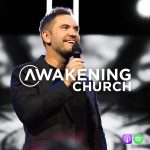 We're living in a time where Emotionalism is trying to take the place of faith, and if we're not careful, we'll find ourselves living out of our emotions rather than from a place of faith.
In this powerful message, Julius Hoff teaches us how to live from a place of faith over feelings.
Want to learn more about Jesus?
Visit → http://www.AwakeningChurch.org/Jesus
Invest in your faith today. Get On-Demand Christian Discipleship & Training. Sign Up → https://www.AwakeningU.org