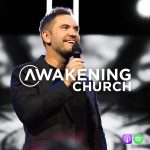 What does it take to turn the hearts of God's people back to him?
In this message, Pastor Jordan Boyce shares how we are in a showdown for the soul of our nation and how we, as children of God, have an important role to play.
If you're saved, you're sent. Jesus has called us to help lead the searching to salvation.
Want to learn more about Jesus? Visit: http://www.AwakeningChurch.org/Jesus
Invest in yourself today. Get On-Demand Christian Discipleship & Training at https://www.AwakeningU.org