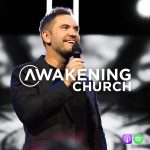 The choices we make every day have a profound effect on our life, legacy, and eternity.
In this message, Pastor Jordan Boyce teaches how small, consistent choices combine to form the framework of your life.
When you choose Christ consistently and align yourself with God's word, you will not only grow in your faith but impact those around you.
Want to learn more about Jesus?
Visit → http://www.AwakeningChurch.org/Jesus
Invest in your faith today. Get On-Demand Christian Discipleship & Training. Sign Up → https://www.AwakeningU.org