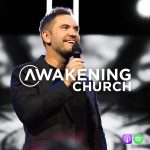 If we're honest with ourselves, we can all agree that life is not all about things.
In this message, Pastor Steve Boyce answers the question, "What Is Life?"
The purest and most powerful form of life is Jesus Christ. May we align ourselves with Him so that we might live our lives in the fullness of Christ.
Want to learn more about Jesus?
Visit → http://www.AwakeningChurch.org/Jesus
Invest in your faith today. Get On-Demand Christian Discipleship & Training. Sign Up → https://www.AwakeningU.org